WORK SMARTER AND FASTER?
Are you a small business trying to compete like a large enterprise or if you are a large enterprise seeking the agility of a small business, Mitel delivers all-in-one communications, collaboration and contact center solutions.
NeoNet Bangkok (N.N.B.) Co.,Ltd. We are Mitel partner in Thailand. 
ระบบโทรศัพท์ IP PBX System
Mitel IP PBX System ระบบสื่อสารที่ถูกออกแบบมาให้ทำงานได้สอบคล้องกับทั้งองค์กรขนาดเล็ก, กลาง, และองค์กรหรือธุรกิจขนาดใหญ่ รองรับทั้งสำนักงานเดี่ยว, องค์กรที่มีสาขาเชื่อมต่อและสามารถ integrate ได้อย่างง่ายดาย
Benefit from a flexible workforce
อิสระในการทำงาน (Freedom to work from anywhere, anytime, on any device)
Teleworker – ทำงานผ่านโทรศัพท์ที่บ้านด้วยการเชื่อมต่อแบบง่าย ๆ มาที่ที่ทำงาน
Dynamic Extension – ลูกค้าและผู้ติดต่อสามารถติดต่อท่านได้ทุกที่ เพียงจำแค่หมายเลขโทรศัพท์เบอร์เดียวเท่านั้นก็พอ
Unified Communications & Collaboration – สามารถสร้างระบบการสื่อสารให้องค์กรเป็นหนึ่งเดียว ด้วยการสื่อสารหลากหลายแบบที่ครบวงจร โดยพนักงานสามรถเข้าถึงคนที่ถูกต้องและข้อมูลที่ถูกต้องได้
Virtualized voice revolutions – ทำงานด้วยการ integrate กับ Virtualization ชั้นนำ อย่างเช่น VMWARE ด้วย Mitel Virtual Solutions
Mitel Solutions for the Hospitality Industry – รองรับการทำงานและเชื่อมต่อทั้งโรงแรมขนาดเล็ก จนถึงโรงแรมหรูหราชั้นนำ
Mitel Business Communications Solutions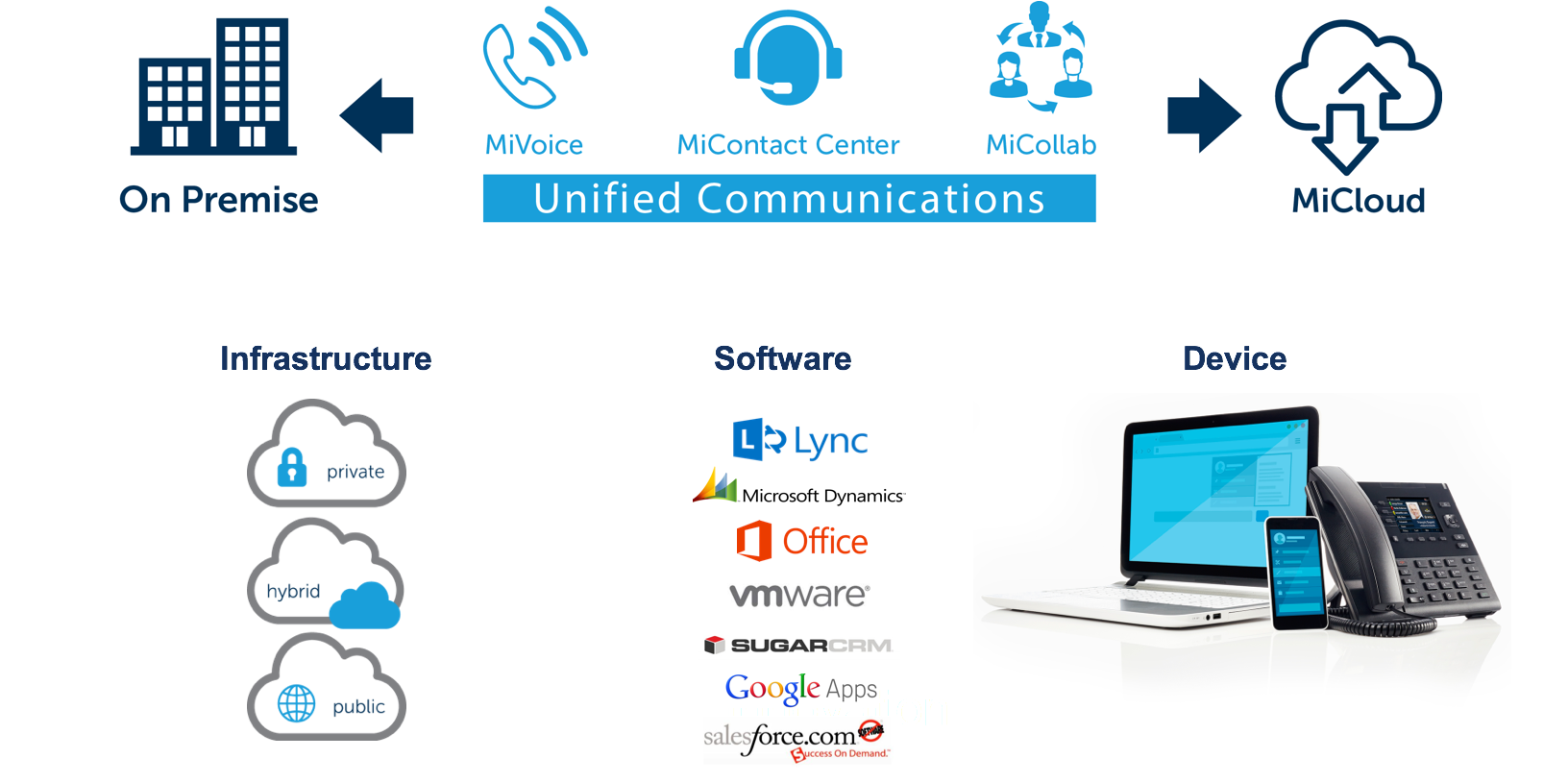 Key Business Solutions
Mobility
The reality of the current business landscape is that work often takes employees away from their desks, and their desk phone, each day. With MiVoice Business, employees are provided with access to the same "in-office" communications experience from anywhere with a single identity, phone number, voice mailbox, and extension.
Unified Communications and Collaboration
A direct result of today's world of business is that organizations are faced with a number of challenges. From how to get employees to efficiently and effectively work together to help drive change throughout the business to ways to improve client interactions that drive increased revenue?
Unified Messaging
Unified Messaging enables your employees to respond faster to clients and colleagues through single message storage and access. With MiVoice Business your employees have anywhere, anytime access to messages with an integrated, fully-featured voice mail system, that provides unified messaging and automated attendant capabilities.
Contact Center
Contact centers can help improve your customers' experience by ensuring that calls always go to the right agent – anytime, anywhere, and by any means. In fact to meet the needs of internal "customers," some departments within your organizations may even perform a contact center role without thinking of themselves as contact centers.
MiContact Center  ระบบโทรศัพท์สำหรับคอลเซ็นต์เตอร์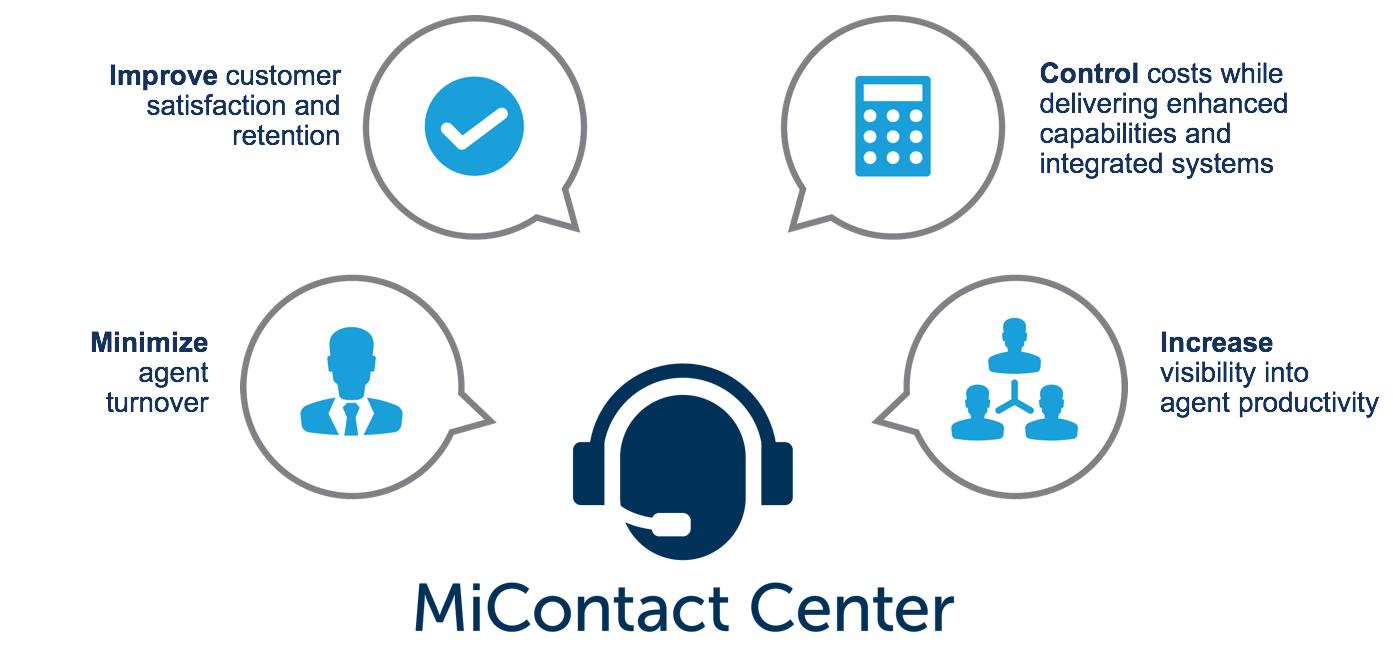 Agent and Supervisors can stay connected from anywhere using their smartphone or tablet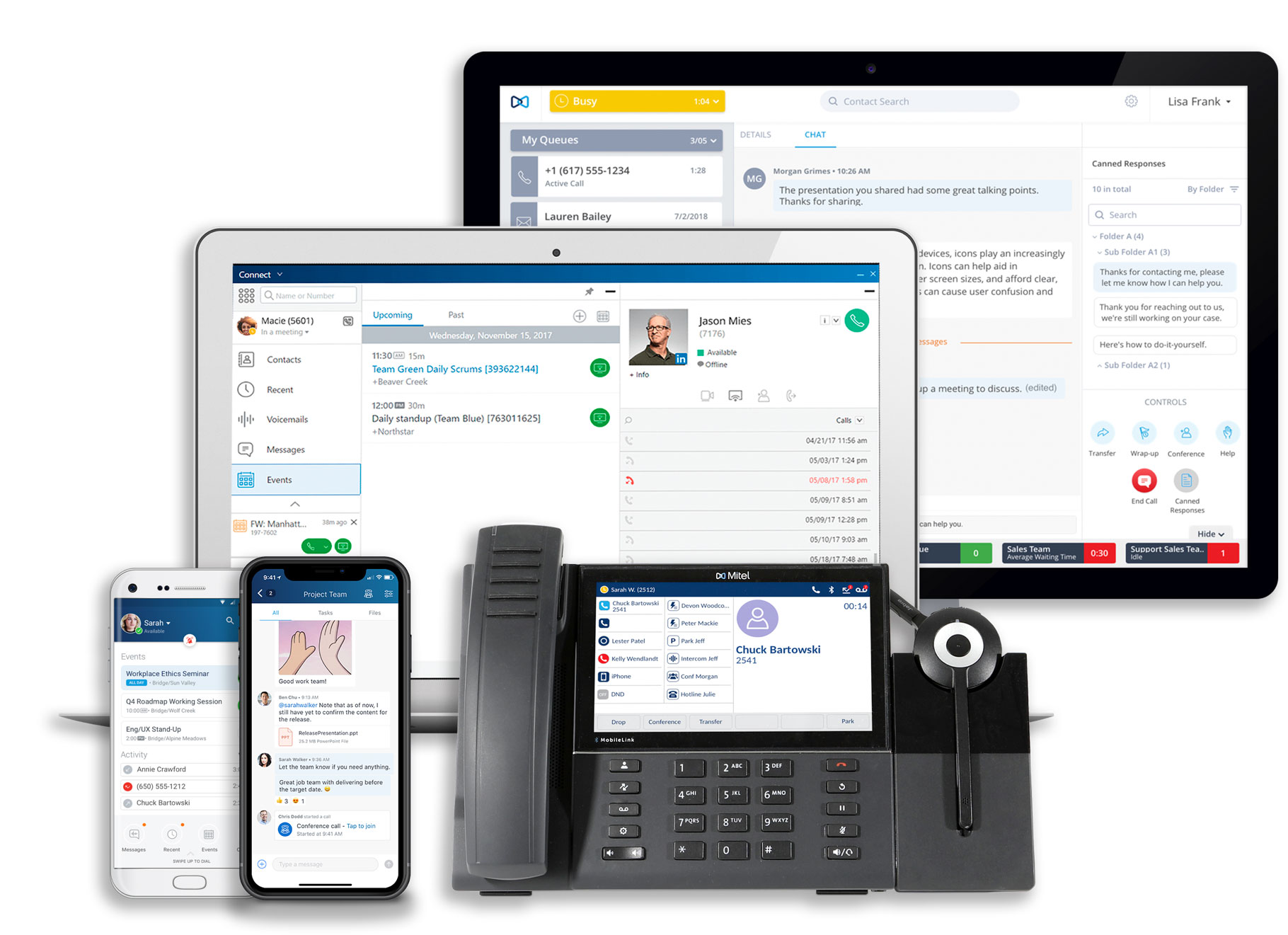 KEY BENEFITS
ALL-IN-ONE-SIMPLICITY
Everything you need to operate a world class customer experience center including built-in Workflow Designer, Speech IVR, AI-powered Chatbots and Agent Assist, Interaction Recording, Quality Management, Workforce Management, Historical Reporting and Real-Time Dashboards.
DESIGN WITH EASE
Leverage an intuitive drag-and-drop interface to create sophisticated interaction flows for all media types without complex programming.
EFFORTLESS ADMINISTRATION
Provision and manage users from all business units through the administration interface, reducing deployment time from days to minutes, without the need for IT involvement.
IMPROVE FIRST CONTACT RESOLUTION
Agents collaborate instantaneously with experts to resolve customer inquiries on first contact resulting in fewer interaction transfers and customer call backs.
INCREASE PRODUCTIVITY
Agents manage simultaneous interactions on a variety of channels through a unified web-based desktop or work directly from within the CRM. Fewer applications to switch between means greater agent productivity.
INFINITE EXTENSIBILITY
Integrate seamlessly with existing systems using our REST APIs and easily add non-traditional channels like WhatsApp, WebRTC video and IoT events into your workflows.
MICONTACT CENTER FEATURES
Data-Driven Skills-Based Routing
Voice, Chat, SMS, Email, FAX, Social Media, and 3rd party media
Self-Service IVR
Speech Recognition and Text-to-Speech
Expected wait time and position in queue announcements and web display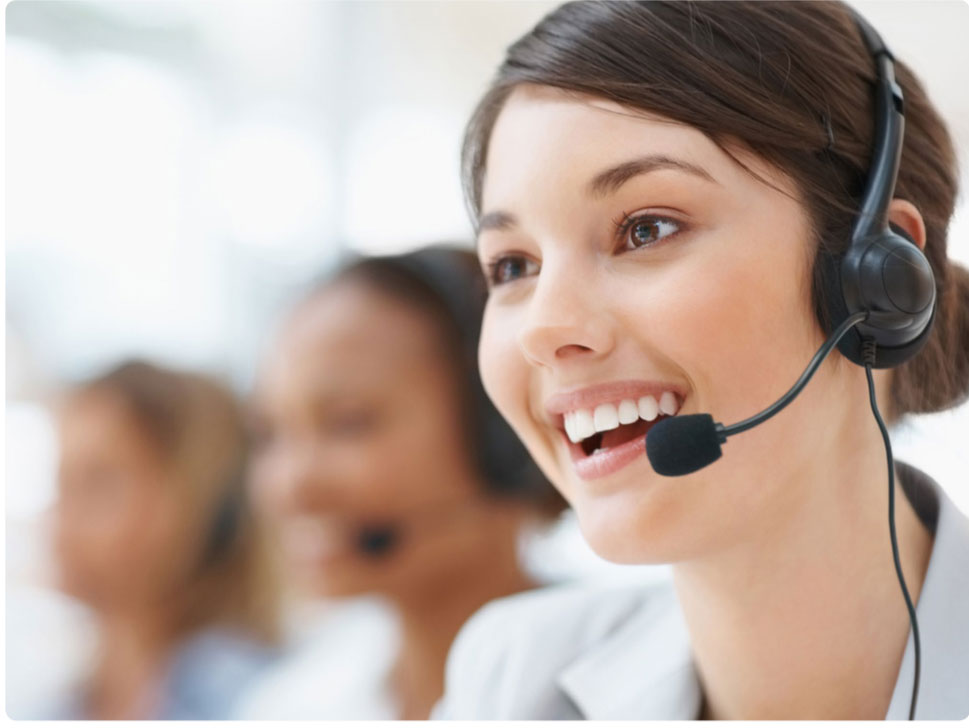 Workflow Designer
Customizable real-time dashboards
Standard and custom historical reporting tools
Preview, power and progressive dialing and campaign management
Web and in-queue callbacks
Agent/Supervisor instant messaging
Mobile Agent (smartphone) and Supervisor (tablet)
Silent monitoring / barge-in
Built-in Call Recording
Integrated Quality Monitoring
Built-in Workforce Scheduling
Integrated Workforce Management
Standard & customized CRM integrations via open APIs and toolkit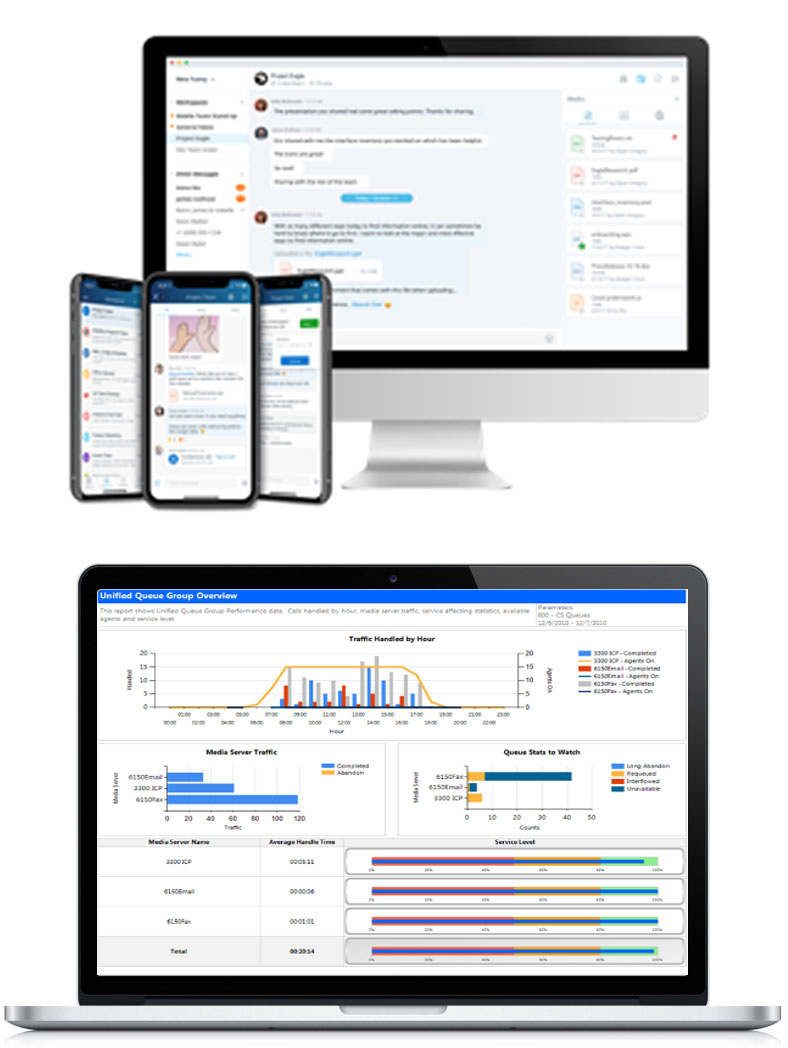 Mitel MiVoice Business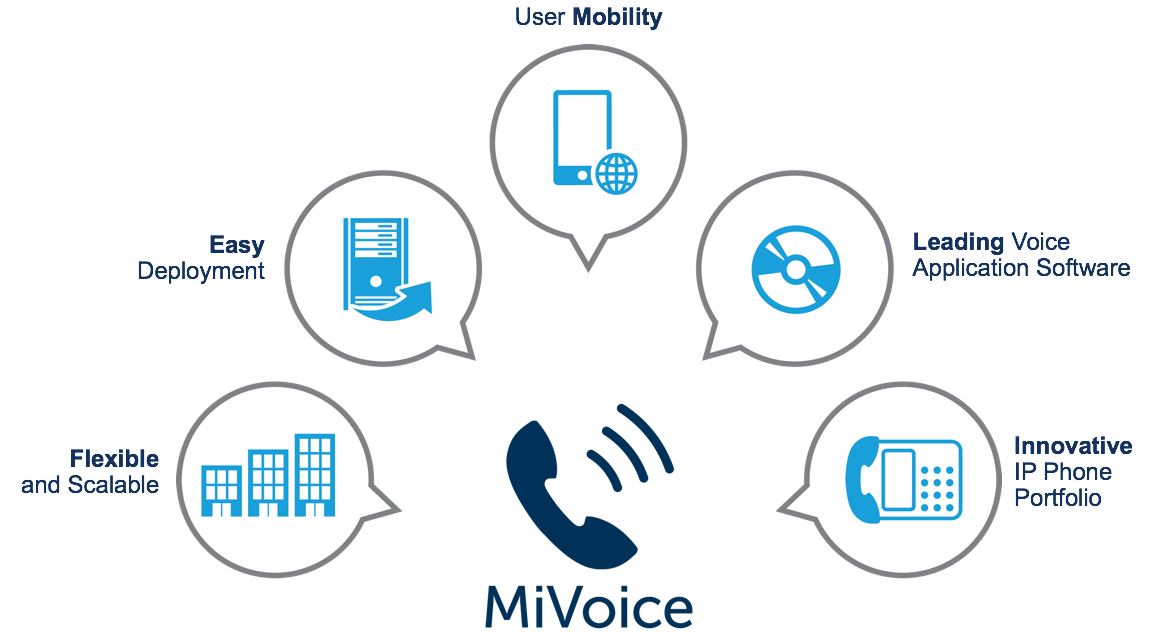 Cost effective call manager with integrated hospitality features
Easy provisioning, modular and scalable
Targeting hotels and care homes with 80  to 5000 rooms
Integrated Property Management System interface
Embedded voicemail, auto attendant, recorded announcements and music on hold
Flexible deployment
Mitel proprietary, industry standard server or virtualized
Distributed, centralised or hosted
Combine traditional and IP telephony
Integrate fixed, wireless and mobile devices
Option to deploy IP telephony over traditional cabling
Analogue, digital or IP public network access
Lower cost hospitality licencing and software support
Proven integration
With common Property Management Systems
Key Benefits: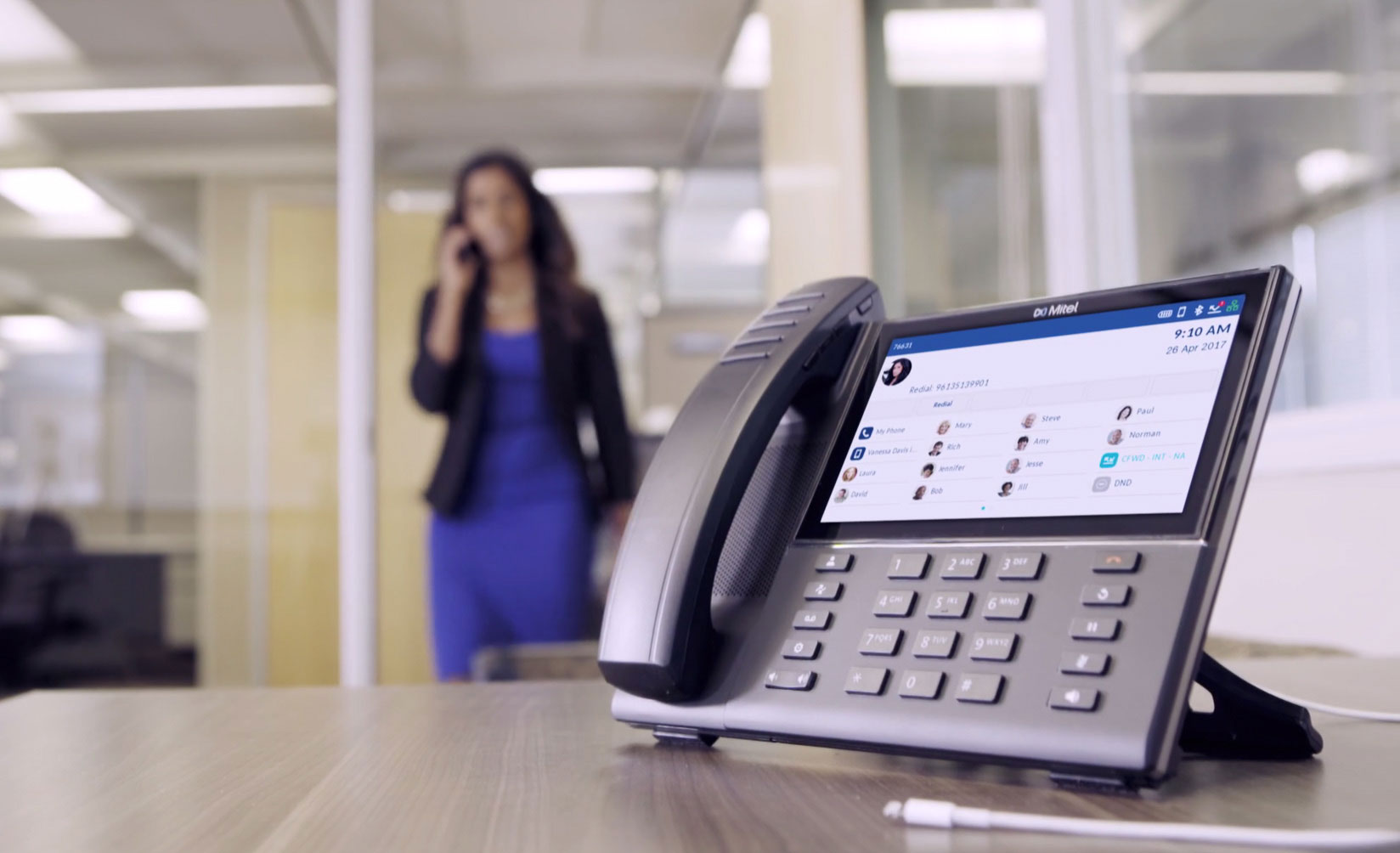 Single Enterprise Identity
Dynamic Extension
Single Number Reach
Hot Desking
Teleworker
Flexible Deployment
Auto-Attendant
Flexible Day/Night Mode
Call Routing
Unified Messaging
Flexible Music On Hold
Enhanced Call Screening
Embedded Meet Me Conferencing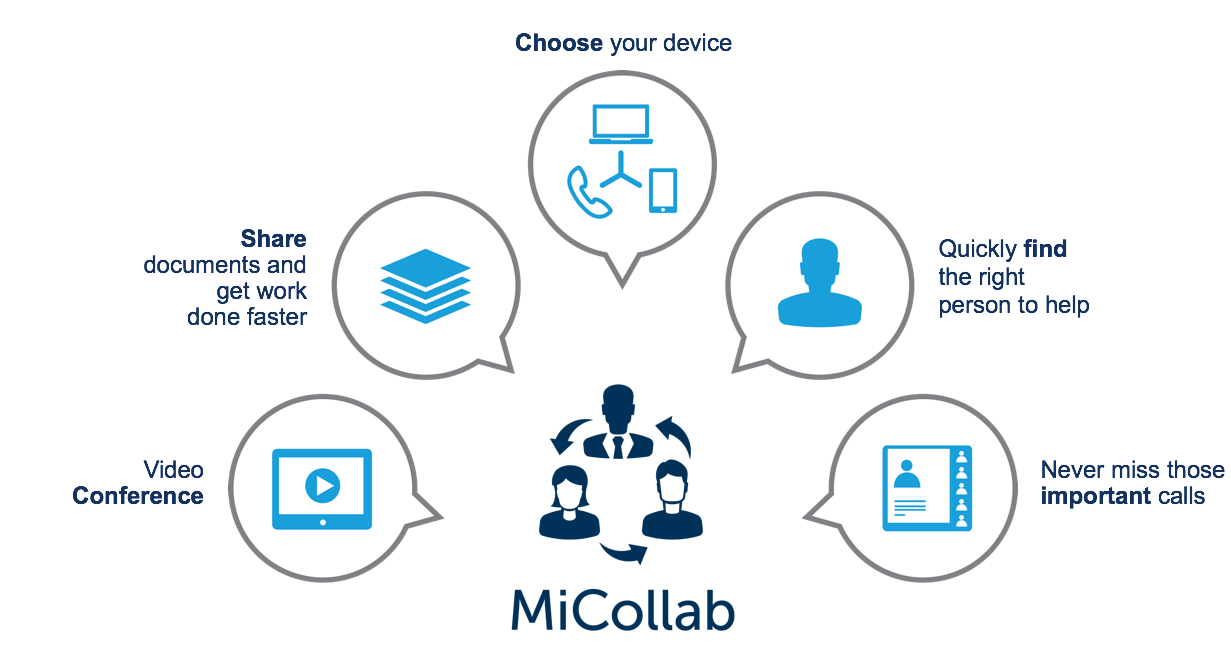 Keeping people connected and productive – anytime, anywhere, on any device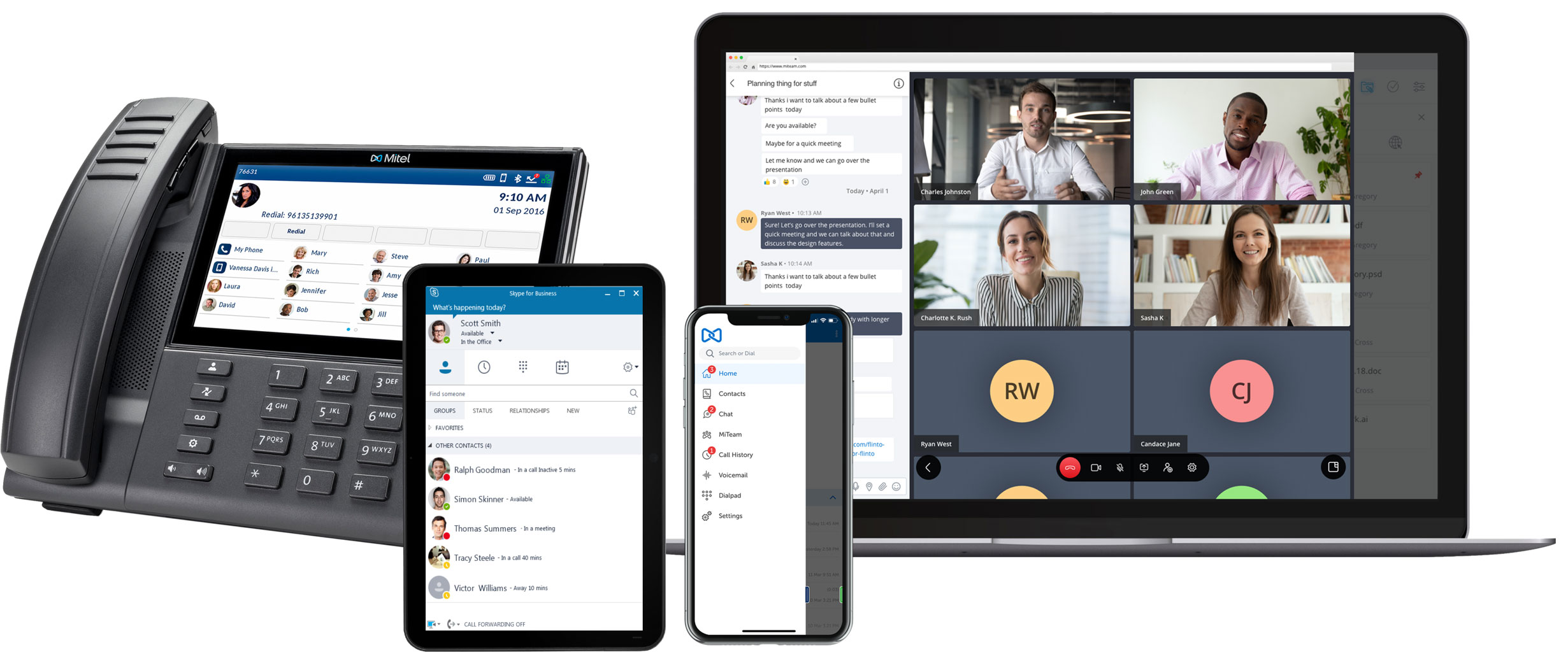 MiCollab
Mitel MiCollab, a complete Unified Communications & Collaboration solution. Allows your employees to communicate and collaborate with their colleagues, customers, and partners through an integrated suite of services. Makes every interaction with speed and quality of decision-making.
MiCollab bundle all together voice, video, chat, messaging, web conferencing and team collaboration tools into ONE single.
Key Benefits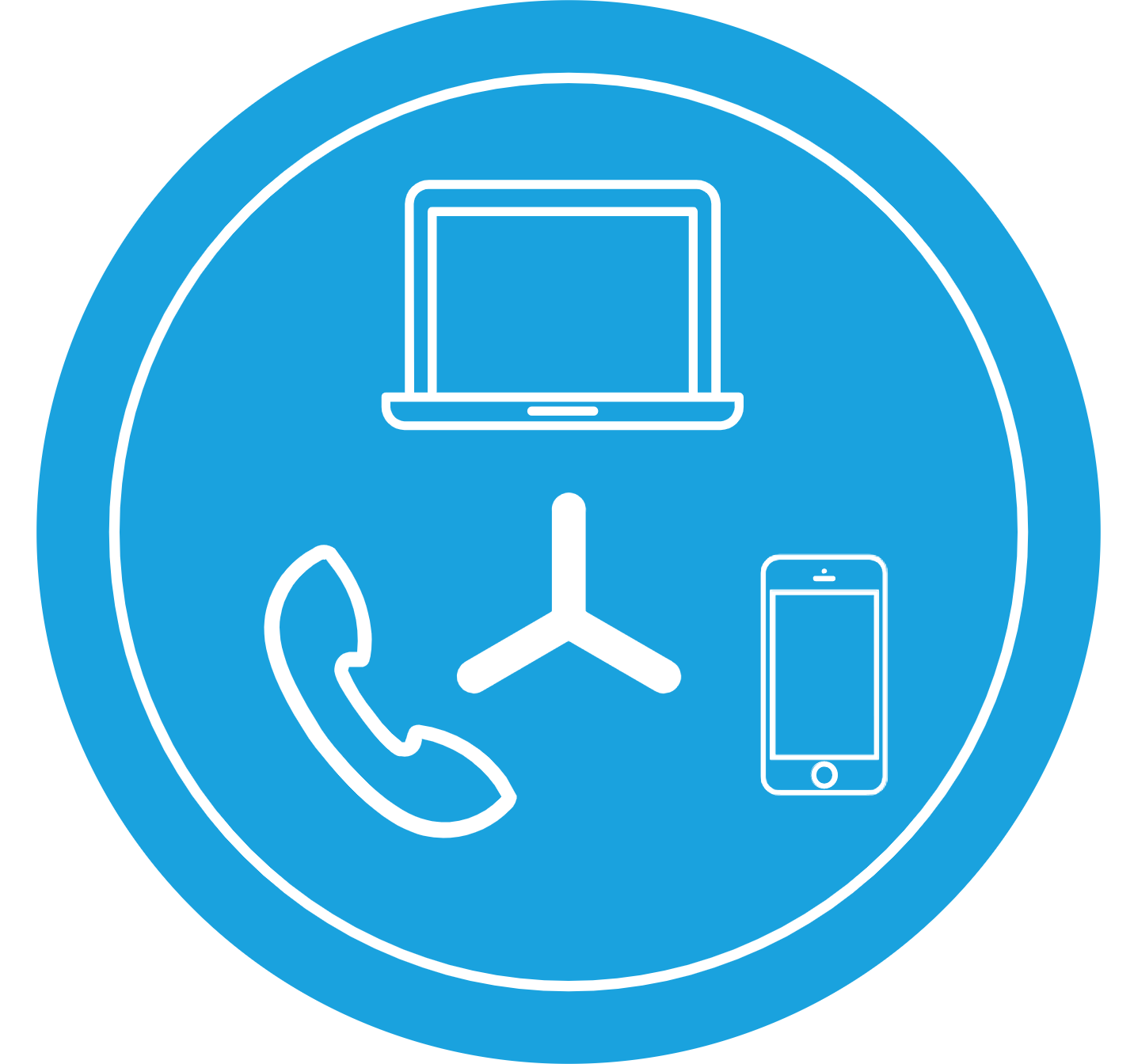 UNIFIED COMMUNICATIONS
Unified Communications (UC) services access via clients for the desktop (PC and Mac), Web and mobile device.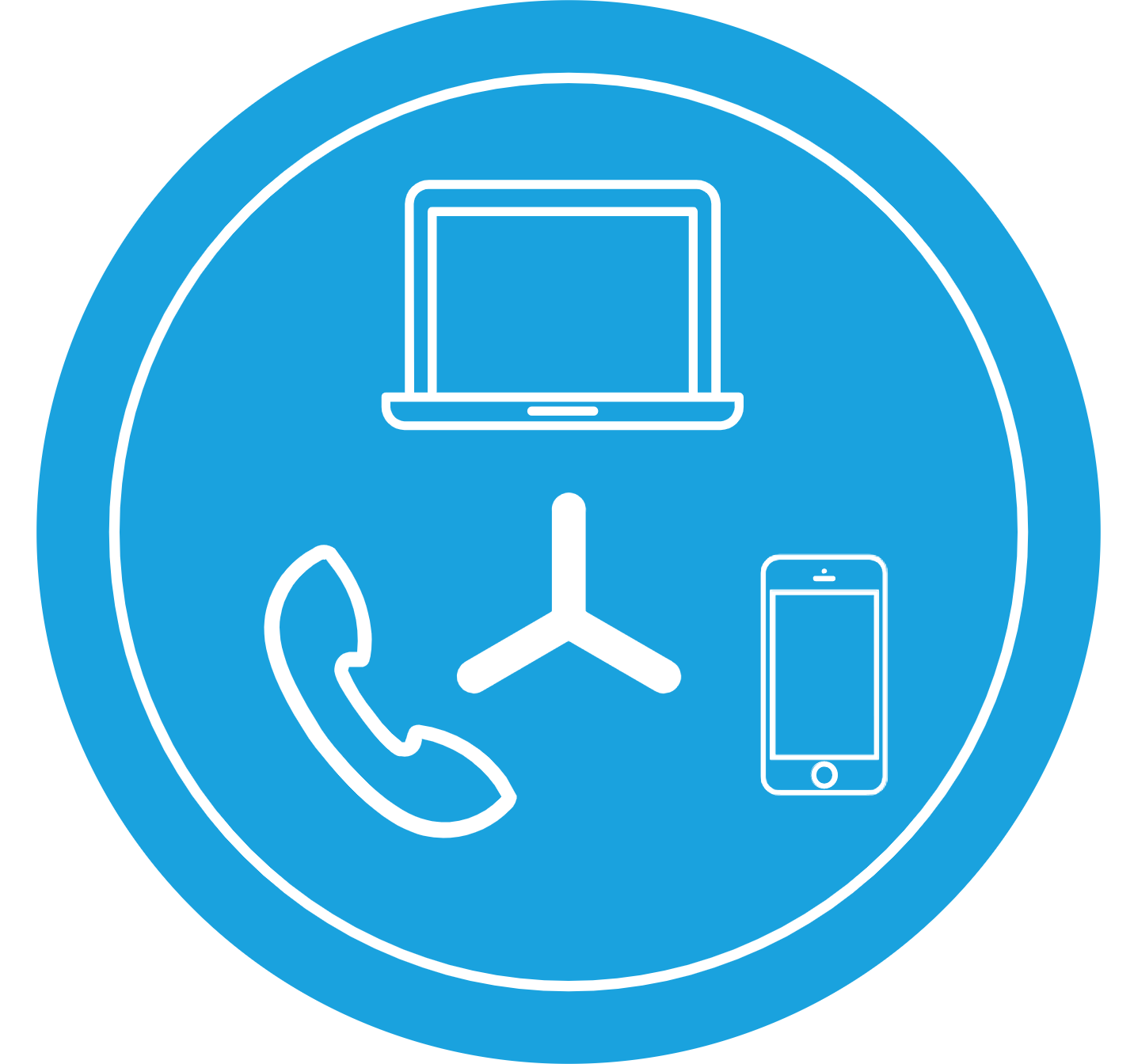 TEAMWORK COLLABORATION
MiCollab Application provides virtual workspace for project collaboration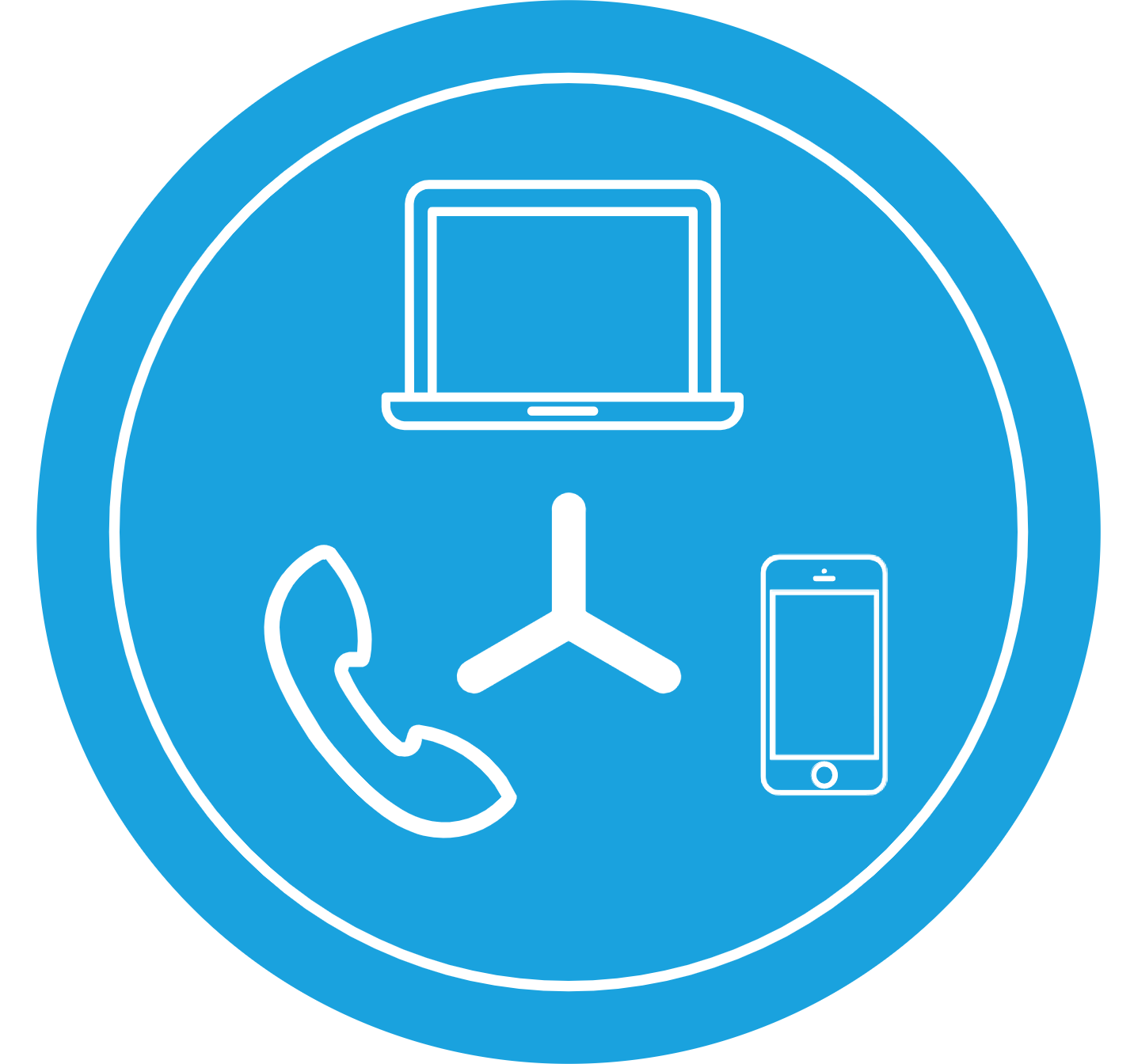 CONFERENCING SOLUTION
Provides Audio conferencing services and Web-Video conferencing Solution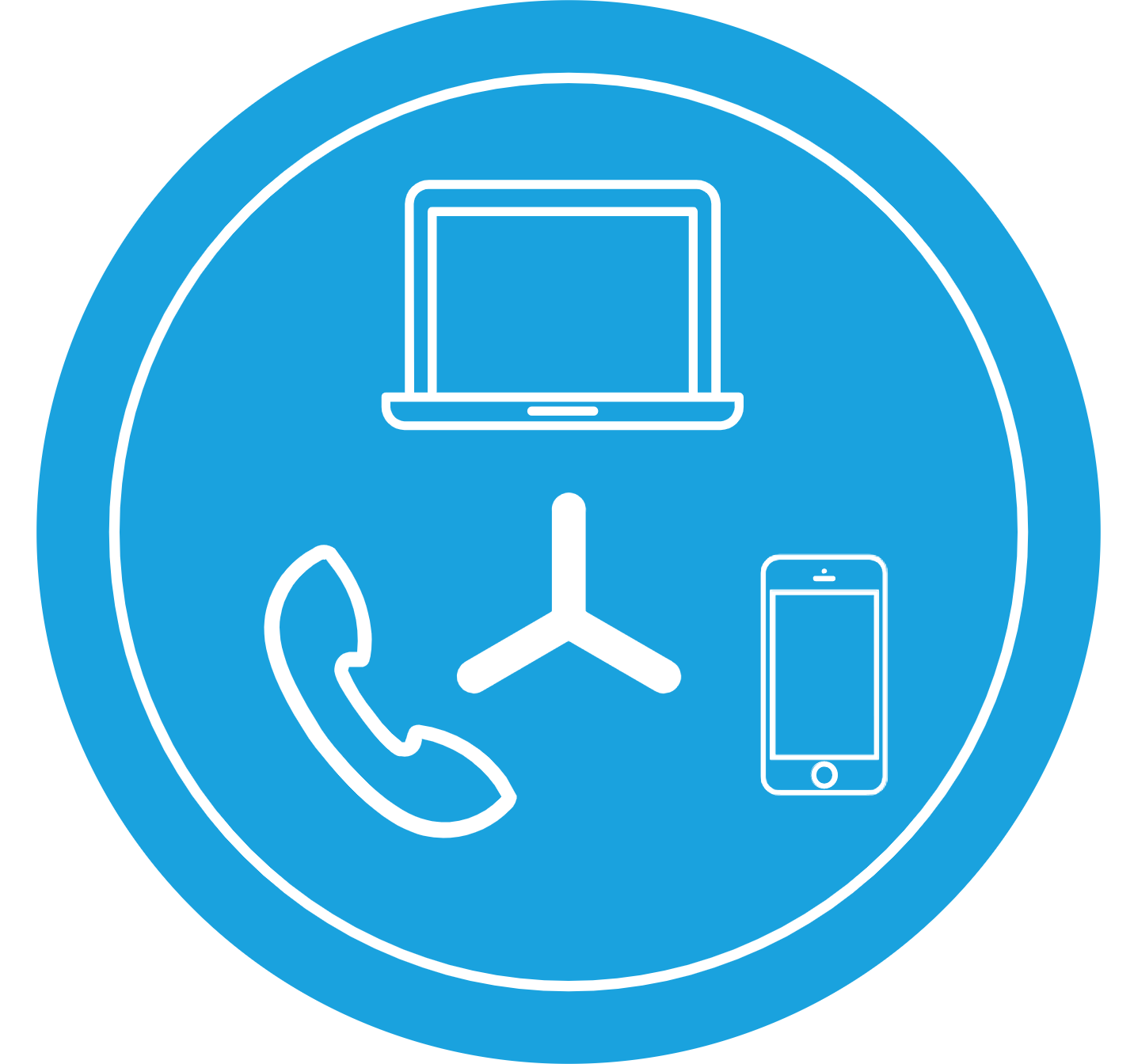 ALL-IN-ONE TOOLS
Presence, Messaging
Softphone, Mobility
Web Portal, Video Collaboration
Integration with other Business Application such as Outlook, Google, Lotus Notes, IBM Sametime